Blendtec Stealth 885 Commercial Blender with Two WildSide+ Jars and Two Soft Rubber Lids
Product Description
Blendtec Commercial Stealth 885 (model # S885C2901-B1GB1D ) is the latest upgrade that replaces the 875 Stealth (which has been discontinued). This new model now offers a new tactile interface design control panel at the helm of its stealth operation and power.
Blending for Customers and seeking the Power and Quietness? Then your in the right place! The Blendtec Stealth 885 Commercial Blender is ready to wow, impress and deliver the quietest and most advanced blending in the world. Easily blend 200 + blends a day. Backed by the Premium Blendtec Commercial Rated Warranty you know and trust.
Features like customizable preprogrammed cycles and touch button controls combine with innovative Stealth technology and industry-leading power to bring you the quietest, most advanced commercial blender in the world.
Package includes:
Stealth 885 international motor base
Sound enclosure dome
BPA-free Commercial WildSide+ jar x 2 units (Yes - you read that right! You get two of the Commercial Type of WildSide+ Jars !!)
Soft rubber lid x 2 (to go with your two jars. Note, soft lid viewable in separate pictures above.
The Ultimate, Quiet Commercial Blender
Features include:

Motor: 3.8 peak horsepower, 15 amp/120v or 7.5 amp/240v available
Usage: Recommended for daily blends of 200+
Program cycles: 42 preprogrammed cycles, Pulse, Manual Speed
Colors: Black
Industry Best Commercial Warranty: 3 Year Parts and 1 Year Labor
Power Save Mode: Powers down after 15 min, 1 hour, 6 hrs, or 12 hrs of idle time
Safety Interlock Setting: Interrupts operation when sound enclosure is open
Can be installed in-counter (but to do this, order the in-counter version!)

Stealth Technology

The Stealth 885 includes a sleek sound enclosure and proprietary sound dampening and airflow innovations that enable operation at nearly the sound level of normal conversation. The Stealth technology makes it possible for you to enjoy the industrial strength and power without the industrial level of noise.
Customizable Preprogrammed Cycles

The Stealth 885 comes equipped with 42 preprogrammed cycles and a USB port. For the ultimate in customization, users can create custom blends with the online BlendWizard. This tool can create an unlimited number of blend cycles and up to 14 can be stored in the blender.
Advanced Design and Functionality
The Stealth 885s cutting-edge design and functionality deliver an advanced yet user-friendly blending experience. The 11-speed button control panel provides precision speed control, and the pulse button adds a burst of power.
The model offered here is the "ON-COUNTER" Model. For customers who prefer a lower profile set up, an "IN-COUNTER" model is available and can be ordered, just call us to place this special order for you.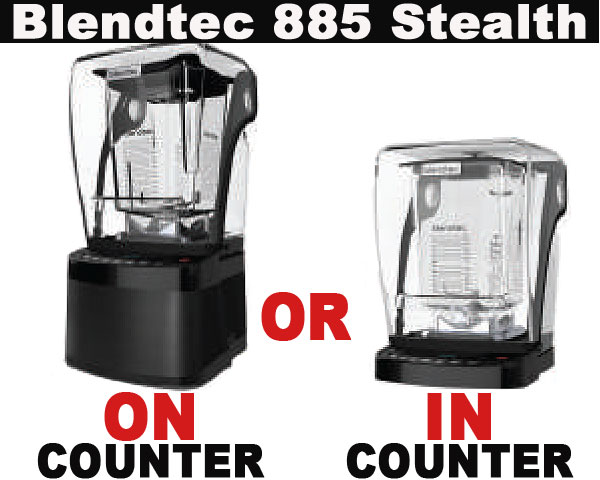 Built to Save Time and Money
All Blendtec blenders are built to meet the unique needs of the commercial customer. Each feature-from top to bottom-delivers effortless operation and is designed to reduce overall cost.
Dimensions
H: 17.3 (43.9 cm)
D: 9.0 (22.9 cm)
W: 8.6 (21.8 cm)
Weight
15.8 lbs (7.2 kg)
WARRANTY: Commercial warranty terms are for sale and use in Canada only. Terms are 3 years parts / 1 year (bench) labour.

NOTES
* If you want the amazing qualities of the Blendtec Commercial Blender such as the powerful and quieter blending of the Blendtec Stealth, but require it for home use / home blending, check out the: Blendtec 800 Pro which is purposed for usage normal for homes. Home users have different warranty terms that are longer and suited for consumer level usage. *
* Wondering what are the differences between the Stealth quietening technology in the 800 Pro vs Stealth 885?
The Check out this compare view: Blendtec 800 Pro Blender vs Blendtec Stealth 885 Blender >>
** Wonder what is the difference between the discontinued Stealth 875 and the new replacement Stealth 885 Commercial model? The main difference is the tactile responsive control panel which busy operations will appreciate. Check out the product compare page: Blendtec Stealth 875 vs 885 Blender >> **
* If you want the "IN-COUNTER" version, call us to make this order specification.
* The Product Code Number for the Blendtec Stealth 885 is S885C2901-B1GB1D
Product Videos
How to CUSTOM SETTINGS | program your Blendtec blender | Connoisseur 825 / Stealth 885
10:43
Using the Blendtec Blend Wizard online tool can be a little ovewhelming at first but with these tips and tricks, you'll be creating the perfect blend cycle in no time, maximising the potential of your blender! Blend Wizard tool here - https://my.blendtec.com/ Already have settings on a USB stick? Here's a much shorter video to show you how to get them onto the blender: https://youtu.be/Ox7twX-xTug
How to CUSTOM ...

Using the Blendtec Blend Wizard online tool can be a little ov...

Blendtec Comme...

The World's Quietest Commercial Blender The Blendtec Stealth 8...

How to make a ...

Making a simple salsa verde using the Blendtec Stealth 885. T...

Blendtec Steal...

For the ultimate in quality, power, and functionality, look no...
Warranty Information
3 year parts / 1 year (bench) labour
Other Details
Role:
Commercial Quiet Blender
Interface:
Button touch - tactile touch interface
Speed Settings:
11-speed via button tactile touch
Preprogrammed cycles:
42 preprogrammed cycles + Pulse
Timed Cycles 60 Seconds— hot soup, bread dough:
N/A
Timed Cycles 90 Seconds— hot soup, bread dough:
N/A
Clean — automatic cleaning cycle:
Yes
Pulse — used to quickly stir, chop, or mince at a high speed:
Yes
Smoothie — Fruit smoothies, green smoothies, milkshakes:
Yes
Whole Juice — juices, green drinks:
Yes
Ice Cream — ice cream, frozen yogurt, sorbets:
Yes
Hot Soup — soups, hot chocolate, syrups, fondues:
Yes
Dips — Salsa, dressings, dips, sauces, batters:
Yes
Batters — sauces, dips, dressings, batters:
Yes
Mixed Drinks — mixed drinks, milkshakes, crush ice:
Yes
+10 — adds 10 seconds to your preprogrammed cycles:
N/A
Finish:
Molded plastic finish
Motor:
3.8 peak horsepower motor
Electrical:
15 amps, 120 volts
Dimensions:
8.6" wide x 17.3" tall x 9" deep
Warranty:
3 year parts / 1 year (bench) labour