Blendtec Designer 725 Blender with WildSide Jar
Product Description



With an array of innovative features, all of which culminate in a superlative blending experience. The Designer 725 blender is unequivocally Blendtec's most advanced and luxurious model!
The Designer 725 - "The World's Smartest Blender", reigns supreme among the world class Blendtec Designer Blender Model Series.
At it's core, it is simply a tremendously versatile, fully loaded and powerful blender that makes healthy tasty foods and beverages even easier with more presets, intuitive customization options and even has a brain (sort of), that tells you when it senses an issue and how to fix it.
It contains incredibly advanced sensor technology that helps you blend better, earning it the nickname of the blender with a brain.

Integrating the most advanced technology in a blender, and offering all the latest and greatest new features to date. This blender was designed to wow and impress.
Premium features include: The SmartBlend technology, 100-Speed Capacitive Touch Slider + Multi-Speed Pulse, and Preprogrammed Cycle Suggestions, all supremely engineered in beautiful die cast finish.
How Will It Benefit You?
LOOKS: The Designer 725 stylish design is gorgeous with it's elegant lines and premium finish. Its fetching goods looks is easily the focal point of any kitchen.
The 725 premium die cast model is offered in a choice of three contemporary sophisticated colours.
Gunmetal
Stainless Steel Black
Stainless Steel White.
POWER:
Equipped with an ultra powerful 3.8 peak horsepower motor (with 120 V / 240 V) and 1,725 watts. Likely more power than you would ever use, the 725 is ready and able, to power through your toughest ingredients with ease. Now imagine making that refreshing and healthy summer smoothie, with your favourite frozen fruits (seeds and all). A task that over taxed your last blender causing it to choke frequently, and was never smooth like your local smoothie bar. With the 725, premium smooth smoothies like you buy at the smoothie shop or restaurant, is now a breeze, and all in the convenience of your own home.
EASE OF USE: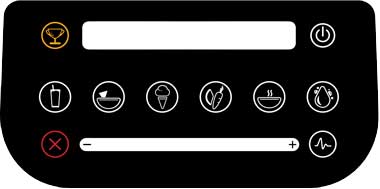 Advanced, modern, easy to use and see controls via a smooth touch screen that lights up when touched and turns off automatically when not in use.
The controls are in the smooth flat touch screen called the "Illuminated Capacitive Touch Interface". It turns on (lights up), when the screen is touched, revealing illuminated controls, digital text message area and blend time. The offering of smart blend functionality, precision freestyle and preprogrammed blending options, make it perfect for the gourmet chef, foodie and multi-tasker alike.
MORE PERFECT BLENDS with SmartBlend Technology - The Blendtec 725 is so advanced with built in sensors and SmartBlend technology (its brain), now making perfect blends each time, just got even easier. Whether you are stirring, chopping, mixing, blending or pureeing, it identifies potential issues or challenges such as: loading errors, overheating or air pockets and then, advises you how to correct the issue and how to proceed via the text message area in the touch screen.
MORE PRECISION & CONTROL with 100 SPEED TOUCH SLIDER + MULTI SPEED PULSE - For all those delicious blender recipes you want to make, with the 725 incredibly extensive speed settings, getting the perfect blend is easy. For your blending creations enjoy maximum control and precision with the 100-Speed Capacitive Touch Slider and Multi-Speed Pulse. Perfect for those times you want to customize blends and seek manual controls. Easy to use, simply touch and slide your finger to desired speed. You can slide back and forth between low and high with small or large increments. At the highest speed of 100, the blunted blade is spinning at an incredibly powerful 29,512 RPMs. As it runs, it advises you (in the text message area of the touch screen) on what speeds to use for your blending tasks including mixing, stirring, chopping and pureeing.
MORE CONVENIENT SET AND FORGETS with 6 PREPROGRAMMED FUNCTIONS – Effortlessly create healthy, tasty and fresh premium meals in minutes. Simply press your pre-set cycle of choice to start. Once a pre-set cycle is selected, it tells you which one you have chosen, additional uses for that cycle and displays the blend time countdown. The 6 pre-set cycles are the most likely blends you will ever use.
SMOOTHIE: 40 seconds
SALSA/DIPS: 23 seconds
ICE CREAM/FROZEN TREATS: 45 seconds.
WHOLE JUICE: 50 seconds
HOT SOUP: 180 seconds
CLEAN: 23 seconds
FOR WHEN YOU NEED A TAD MORE just "Tap for More" – Easily perfect your blends with a tap, for when you need just a tad more. Sometimes a Preprogrammed Cycle may not be long enough due to ingredients or when you feel like adding some other additions. You can easily customize and extend blend time just by tapping the current running Preprogrammed blend cycle. Tap once to extend blend by 10 seconds, twice for 20 seconds and so on, up to a max of 90 seconds. If more time is needed repeat. This is a super handy feature for easily getting your creative blends to your exacting preferences fast.
EASY TO CLEAN:
Inside (jar) - When you use the preprogrammed Clean cycle, simply add: water and dish soap, close the lid, press Clean cycle and follow with a rinse.
Outside (appliance) - Simply damp wipe, thanks to no knobs or buttons with recessed areas that can hide and harbor grime, bacteria and germs.
SAFE:
The blunted blade is not sharp at all. Safe for handling and cleaning.
BPA-Free Jars, safer and better for human health
The Blendtec blender jar lid, called the Vented Gripper. Let's you make hot soups with your lid on. The vents in the lid allow steam pressure to escape safely and more conveniently. Consider many other blender brands advise removing the jar lid and cover top with a towel in order to safely relieve hot soup steam pressure.
PEACE OF MIND: Blendtec's industry leading 8-year warranty (home use) covers both the blender and the included jar against defects or everyday wear and tear. Note additional jars purchased have the normal premium Blendtec Jar warranty time of 3-years.
Bottom Line - Is this the best blender for you?
The Designer 725 is simply a stunning work of art that is the equivalent of a Mercedes among blenders. It's multitude of advanced features including 100 SPEED TOUCH SLIDER and SmartBlend Technology earns it the title of "Most Advanced Blender".It is a beautiful premium blender that its owners can delight in using and proudly show on their counters. Easily becoming the focal point of any kitchen, the 725 is not only eye catching, but a testament to the owner's premium tastes in healthy lifestyle choices and demand for only the best in culinary tools. Luxury and performance at its best!
Features
3.8 peak horsepower motor
Artfully Engineered - Most advanced blending technology
Blunted blending blade much safer to clean
Beautiful Design - Modern clean sleek design will enhance any kitchen
SmartBlend Technology - senses and identifies potential problems and advises how to fix
Illuminated, capacitive touch interface - Smooth sleek lighted touch screen controls
6 preprogrammed cycles - Smoothie, Dips, Frozen Treats, Whole Juice, Hot Soup and Clean
100-speed capacitive precision speed touch slider + Pulse – seamless speed precision control
"Add 10" – easy tap adds 10 seconds to any blend cycle for a customized blend
Large Capacity 2.66 Litre BPA-Free "WildSide Tritan Jar" with super convenient vented Gripper™ lid
8-year warranty (home use)
Talk to Me Technology – Humanizing feature. Makes you smile.
Easy to Clean Design in and out
Specifications
Metal die-cast finish
Colours: Gunmetal, Stainless Steel Black, Stainless Steel White
Dimensions: 7" wide x 15.5" tall x 9.25" deep (fits under most kitchen cabinets)
Weight: 10.7 lbs.
1725 Watts, 15 amps, 120 volts
Package includes:
Designer 725 motor base
BPA-free jar with vented Gripper™ lid
Blending 101 quick-start guide and recipes
FAQs:
Does this come with a tamper?
A: No, this is a "tamper-less" designed blending jar. Also referred to as "tamper-free" blending.


Does it come with a recipe book?
A: Yes, it includes the Blending 101 Quick-Start Guide and Recipes.


How many blending jars are included?
A: The 725 WildSide+ comes with one Blendtec WildSide+ Jar. It features the patented five sided jar design. The fifth side increases blend speed and performance to get blend tasks done in less time. This is a large capacity, all purpose blending jar that is a kitchen cabinet friendly low profile and wide base design.


Why would I want to buy additional blending jars?
A: It depends on what your needs are. Example scenarios that will use more than one jar follows.
If you intend to make more than one blend recipe at the same time and serve together, such as morning smoothies containing different recipes for each family member, or having your blender make multiple parts of a meal or dessert. Consider size and type of the blends you want to make and put out concurrently, as this will determine what additional blending jars will serve you best.
If you intend to frequently make small quantity recipes such as salad dressing, dips, baby food, or single serving blends like soups or smoothies, then you may want to get a jar like a Mini-WildSide that is optimal for blending smaller portions. To learn more about this jar, check out the product page: Blendtec Mini WildSide Jar
If you intend to frequently make extra thick blends like nut butters, extra thick smoothies, smoothie bowls and frozen desserts, then a Twister Jar, which is designed specifically for this task will make blending easier and faster. To learn more about this jar, check out the product page: Blendtec Twister Jar
Why is the Blendtec Designer 725 considered better than NEW Vitamix Ascent Series top model A3500?
A: In a Blender Battle between these two industry leader blender model bests, the Blendtec 725 beat Vitamix with a knock out match. For more info, check out the Blender Battle fight for yourself. Read the Blender Battle: Vitamix Ascent A3500 vs Blendtec Designer 725 - Blender Battle Heavy Weight Category
Product Videos
Why Blendtec? Blenders are our Passion!
01:15
Our purpose in life is to enrich and make lives better by creating The Worlds Most Advanced Blender. Our Made in the USA blenders are backed up with our industry leading warranty and an amazing customer service group. "Feed Your Passion" Blendtec.com *The WildSide jar is no longer available for purchase. Please check out our new and improved WildSide+ jar: http://www.blendtec.com/jars/wildside-jar
Why Blendtec? ...

Our purpose in life is to enrich and make lives better by crea...

Why Blendtec? ...

What makes Blendtec different? 1-Quiet, Ultra Speed Motor 2-Pl...

Why Blendtec?

Why choose a Blendtec? We create the Worlds Most Advanced Blen...

Celery Juice /...

YouTube star Tom Dickson shows how to use his latest invention...
Warranty Information
8-Year Warranty (home use)
Other Details
Role:
World's Smartest Blender
Interface:
Illuminated, capacitive touch interface
Speed Settings:
100-speed capacitive touch slider
Preprogrammed cycles:
6 preprogrammed cycles + Pulse, + "Add 10"
Timed Cycles 60 Seconds— hot soup, bread dough:
No
Timed Cycles 90 Seconds— hot soup, bread dough:
No
Clean — automatic cleaning cycle:
Yes
Pulse — used to quickly stir, chop, or mince at a high speed:
Yes
Smoothie — Fruit smoothies, green smoothies, milkshakes:
Yes
Whole Juice — juices, green drinks:
Yes
Ice Cream — ice cream, frozen yogurt, sorbets:
Yes
Hot Soup — soups, hot chocolate, syrups, fondues:
Yes
Dips — Salsa, dressings, dips, sauces, batters:
Yes
Batters — sauces, dips, dressings, batters:
No
Mixed Drinks — mixed drinks, milkshakes, crush ice:
No
+10 — adds 10 seconds to your preprogrammed cycles:
Yes
Colors:
Stainless Steel, Gunmetal
Motor:
3.8 peak horsepower motor
Electrical:
15 amps, 120 volts
Dimensions:
7" wide x 15.5" tall x 9.25" deep
Warranty:
8-year (home use)