Vitamix Ascent A3500 vs Blendtec Designer 725 - Blender Battle - Heavy Weight Category
Vitamix Ascent A3500 vs Blendtec Designer 725 - Blender Battle - Heavy Weight Category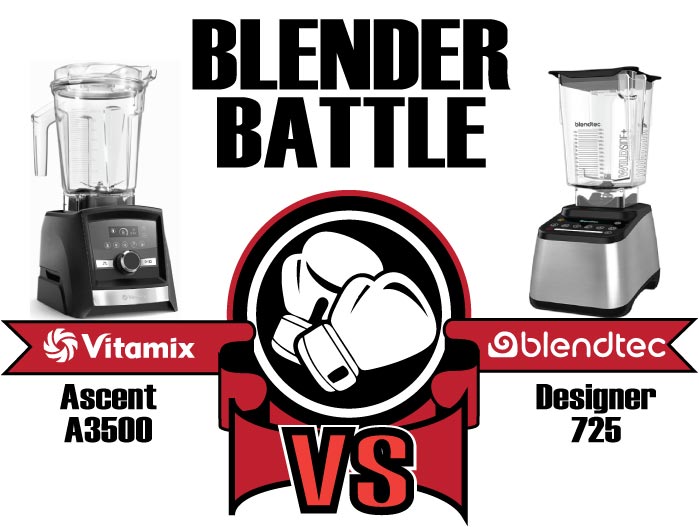 ARE YOU READY TO RUUUUMMMMBLE???
Ladies and gentlemen, today we have a real treat for you, our main event is, a battle for the ages! A fight between two titans of blenders, the Vitamix Ascent A3500 vs the Blendtec Designer 725!
In one corner, 17 inches tall and weighing in at 14.92 pounds, we have a pioneer of blenders, Vitamix and its Ascent A3500. The A3500 is the top of the line of the Ascent Series blenders with the most features of any Ascent blender.
In the other corner, we have the challenger, 15.5 inches tall and weighing in at 10.7 pounds, the Blendtec Designer 725, who hopes its array of innovative features will help it to deliver a knock out punch using its devastating combo of Blunt Blade system, Wildside+ Jar and range of pre-programmed blend cycles. The Designer 725 blender is unequivocally Blendtec's most advanced and luxurious model!

BLENDER POWER
The power of a blender's motor is a critical component to successfully perform difficult blending tasks, such as frozen produce, ice, hard raw vegetables and leafy greens. Without it, you are likely to experience less than stellar results. That being said, both are incredibly powerful blenders with plenty of power and torque.
Winner: Blendtec 725
With more horsepower and the demonstrated ability to turn items like garden rakes, golf balls, glow sticks, along with an array of popular tech devices like iPad's, iPhone's and the Amazon Echo into fine powder, the Blendtec Designer 725 is the clear winner. (Demo videos here)

MANUAL BLENDER CONTROLS
Historically, this is undeniably one of Vitamix's strongest selling points. Vitamix's fans really appreciate the precision control that its manual controls offer. And the A3500 is no exception to that with their standard 10-speed settings.
Blendtec is much better known for its pre-programmed blend cycles. But they have pulled out all the stops with its 100-speed touch slider. As it runs, it advises you, in the text message area of the touch screen, on what speeds to use for your blending tasks including mixing, stirring, chopping and pureeing.
Bam… The A3500 IS DOWN on the mat!
The 725 delivered a stunning upper cut out of nowhere!
After a 4 count, the A3500 is back up on its feet (rubber feet).
Looking a bit shaken maybe even stirred.
But it still looks like it's ready to fight on and return the favour.
This fight has gotten personal!
Looks like the 725 is revving with excitement and ready to show what he can do....Oh and whats that I see and hear? The 725 is all smiles, see his eyes beaming with joy as he says "BRING IT ON!"
Oh this is going to be good!

Winner: Blendtec 725
What an upset! With the extreme amount of control provided by the 100-speed touch slider, the Blendtec Designer 725 easily takes this round.
Easy to use, simply touch and slide your finger to desired speed. You can slide back and forth between low and high with small or large increments. At the highest speed of 100, the blunted blade is spinning at an incredibly powerful 29,512 RPMs.

PRE-PROGRAMMED AUTOMATIC CYCLES
What is it? These are options on your control panel. Just select the item such as smoothie, ice cream/frozen desserts, hot soups, or other, and it will perform the appropriate blend cycle. The blender then starts, runs a variety of speed cycles and stops when done. These pre-programmed blend cycles are designed by the manufacturers to deliver optimal blends
Vitamix is fairly new to the pre-programmed cycle game. The Ascent blenders are only the 3rd model to have them. It's important to consider that an integral part of Vitamix's jar design revolves around their signature tamper. It is a wand that is inserted through an opening in the blender lid. It is used to help process thicker mixtures by manually forcing recipe ingredients back onto the blades. So, if you need to use a tamper, then its not really hands-free blending.
Blendtec believed that perfect blends could be achieved every time with a selection of pre-programmed cycles. Fans of this line appreciated the hands-free automation options for common blending tasks.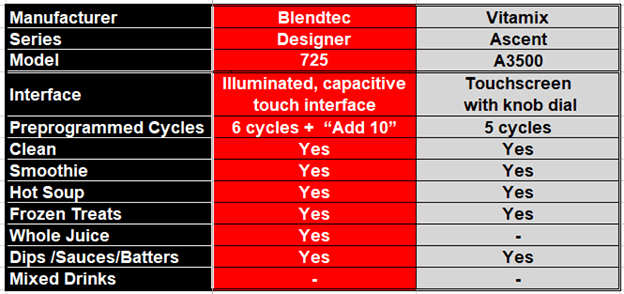 Winner: Blendtec 725
No surprise here, the 725 easily takes this round with its 6 pre-set cycles (smoothie, hot soup, frozen treats, dips/sauces, whole juice and a clean cycle). Adding insult to injury, it also has a nifty "add 10" feature (you'll love this), which adds a ten second blend time extension with each tap for when you need a tad more. You can combine this option to add up to an additional 90 seconds to easily tweak or customize any blend.

BLENDER AESTHETICS
Historically, Vitamix blenders had a utilitarian design. A plain and functional interface, consisting typically of toggles, switches and dials.
The A3500 is not your grand-daddy's blender. It's a very attractive unit with a very masculine look. If it was a car, it could be likened to a souped-up Ford Mustang GT. Exuding power and performance. The A3500 comes in 7 attractive colors.
On the other hand, the Designer 725 follows in Blendtec's tradition of more modern styling. Continuing the automotive analogy, the 725 is evocative of an AMG Mercedes with its clean lines, sleek and sexy contours and an elegance, refinement and sophistication that effectively masks the powerful 3.8 HP beast trying to break out from under the hood! (Weird, for some reason after this fight, I feel like watching Top Gear).
The Blendtec 725 is available in 3 distinguished colors.
Winner: Tie
The old saying is as true as it ever was, beauty is in the eye of the beholder. Both blenders offer stylish designs and as such it's too subjective to call a winner.

BEST KITCHEN COUNTER FRIENDLY BLENDER
The importance of the dimensions of a blender are individualized and unique to your kitchen.
Know your cabinet to counter height as this will determine how much space is available for storing and using your blender.
The more clearance you have will determine what dimensions are acceptable and preferable for both storing and operating.
If you are interested in the A3500, it is a taller machine, so be sure to carefully measure your kitchen counter to cabinet clearance to be certain you have enough clearance to fit.
Take into account, the additional height of a tamper as it exceeds typical countertop to cabinet clearance.
This means for many, the Ascent A3500 cannot be kept on the counter fully assembled and may need to store the tamper separately.

Winner: Blendtec 725
Blendtec 725 wins the kitchen counter friendly competition as this blender is more compact and lighter than the Vitamix blenders. It's 15.5-inch height means that the 725 should fit under most cabinets, even those with decorative moldings.

CLEANING
Let's face it, cleaning is an annoying chore! So, in the interest of doing less work (don't you do enough already?), its important to determine which is the easier blender to clean.
Cleaning a blender can be broken into two parts, the motor base and the jar.
The Vitamix A3500 motor base has a hybrid control interface of both a dial and capacitive touch interface. The presence of a dial may require more intricate cleaning attention to clean spills, splashes, dirt, grime, bacteria and germs from around the dial. On the other hand, the Blendtec Designer 725 blender base is completely smooth, typically only requiring simple damp wiping.
Usually cleaning the jar can be done fast and easy by simply adding some water and a little dishwashing liquid to the jar and either running a pre-set clean cycle which both combatants have or manually briefly running the blender and then rinsing. This will easily remove blend residuals around the blade and jar interior. However, stickier blends can require a more hands-on approach.
A dull to touch blending blade is most ideal, as it makes cleaning around the blade assembly easier and safer. Vitamix claims that the blades on the A3500 are dull. But upon examination it gives the impression that you could cut your hands on it. On the other hand, the Blendtec blade system is indisputably completely blunt.

* Not Quite – In our opinion.
Winner: Blendtec 725
The Blendtec Designer 725 model is the winner in this category offering the most wins. Including:
Pre-set clean cycle
Safety of cleaning around the blunt blending blade
Ease to clean blender base due to controls being 100% simple wipe clean smooth surface via their capacitive touch interface

WARRANTY
Vitamix's standard warranty on all blenders is 7 years. However, Vitamix has upped the ante and is offering a 10-year warranty on their Ascent Series blenders. Blendtec's standard warranty on all new blenders is 8 years. You can't lose with either!

Winner: Vitamix A3500
The winning blender with the best warranty is the Vitamix Ascent A3500 for offering an outstanding 10-year warranty.

NOISE
These blenders are loud. For all intents and purposes, they will be within a similar decibel range. You will not conduct a normal volume conversation while they are running without raising a voice or straining an ear.
But will one subject you to a shorter noise duration? Yes! Now anything less than 10 seconds is not really noticeable. For this, duke out, lets look at the popular blend task of making soup, which has a noticeably longer blend time than other pre-sets.
Both 725 and A3500 have soup pre-programs. The blend time to complete blending a soup cycle on the Blendtec 725 is 3 minutes and on the Vitamix A3500 5.5 minutes. So clearly this blend comparison has a distinctive and noticeable difference in noise duration.

Winner: Blendtec 725
The winning blender for least noise is the Blendtec 725, because it can make soup significantly quicker than the A3500 due to the WildSide+'s high friction design. Shorter run time = shorter time to be subjected to noise!

BLUNT BLADE SYSTEM
Historically, Vitamix jars had a sharp blade system. However, in recent years they have been moving towards more of a dull blade system and state that their blades are dull. Vitamix promotes that the Ascent A3500 has a dull 4-prong blade that is safe to touch.
In our opinion, the Vitamix blades are not completely dull and could still pose a cutting risk when doing a hands-in manual clean.
Unlike Vitamix, the Blendtec blade system has always been completely dull with a thick 2-prong dull stainless-steel blade. Instead of slicing the jar contents like a sharp blade system, these blunted blades literally pulverize its blends to desired texture conformity.
About the Jar Blades
Historically Vitamix Blades were razor sharp. You had to be very careful to not cut yourself when cleaning the jar. But with the Ascent and other recent generation models, Vitamix has been transitioning to more of a dull blade system.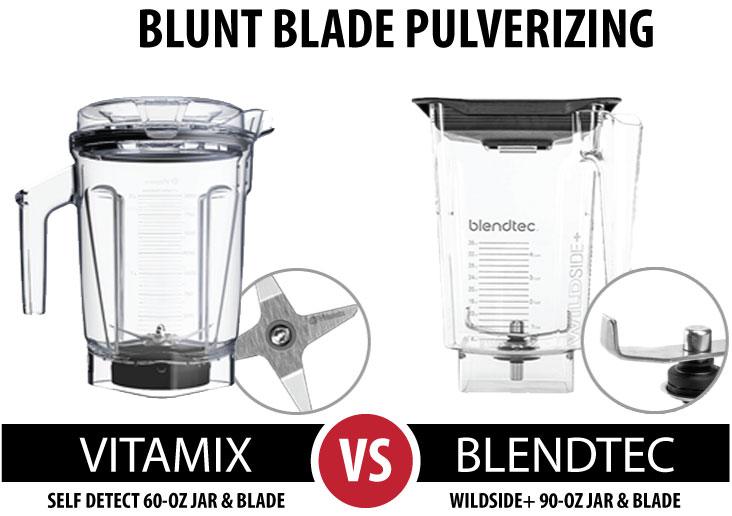 Winner: Blendtec 725
The 725 wins this round because its blunt non-sharp blade system makes cleaning safe and easy.

EXTRA THICK BLENDS
The Vitamix jar comes with a tamper that is used to push the jar contents onto the blades.
The Blendtec WildSide+ Jar can make extra thick blends such as nut butters, but it would take periodic stopping and scraping the sides thus slowing the process.
Winner: Vitamix A3500 64-ounce Jar
The Vitamix A3500 64-ounce base jar with tamper is better than the WildSide+ jar when making thick recipes such as nut butters.
But if you use a Twister Jar on the Blendtec for extra thick blends, that's another matter all together, and another battle… Tamper vs Twister Jar, tickets available soon!

BLENDER JAR
Blendtec and Vitamix both provide excellent large general all-purpose type jars that come with your blender. Both Jars are well made and constructed of BPA free, strong, light weight Tritan co-polyester. And both provide unique qualities and value.
The Vitamix all-purpose jar that comes with the Ascent A3500, is their 64-ounce Low-Profile Container (with SELF-DETECT ™). The jar design is a mixture of both a circular and square shape. It has an outer body that follows a mostly circular shape with four vertical inward jutting sides. In a top down view, the inside looks like an octagonal shape on a rounded square base paired with 4 pointed blades.
The jar is from their new SELF DETECT line of Vitamix jars which is compatible with only the Ascent Series of blenders. With the SELF DETECT, the jar model is recognized by the Ascent A3500 (and all Ascent's) which then are supposed to adjust blend preprogram settings depending on which size jar is in use. Currently there are no reports of blend cycle differences between jars that we can see, however in the future there may be updates on the blenders that may avail of this self detect technology. Another feature of the detect line, is it will not run a blend unless the lid is fastened close.
The A3500 has another interesting feature that there currently has no use for, a Wi-Fi capability. It's been suggested that this may allow owners of Ascent blenders to obtain new pre-sets and other technology updates in the future. But we will have to wait and see what may develop.
What makes this jar special is the tamper that you can use to press thick and frozen ingredients into the blades. This enables it to tackle thicker blends without having to pause and wipe down the sides and resume.
The Blendtec all-purpose jar that comes with the Designer 725 is their 90-ounce capacity WildSide+ Jar. The WildSide+ jar is a low-profile angular design jar with 4 similar sides and one shorter fifth side which is paired with a single thick stainless-steel blunt blade.
The innovative design featuring an extra-wide base and the narrow fifth "wild" side which helps create faster, smoother blends. The jar design increases blending efficiency for frozen ingredients by up to 25%. The patented fifth side allows for bigger, quicker blends. The WildSide+ jar also features two vertical ridges on the interior walls to disrupt the blending pattern even further and accelerate the blend. The result? The fastest, smoothest blends yet.
Ultimately Vitamix must have agreed with Blendtec engineers for better blender jar design, because they released a jar similar enough that they lost a patent infringement lawsuit for 24 million dollars to Blendtec in 2012. (Details here & here)
But wait that is not all you get with this Blendtec blend experience. Blendtec sets the stage for your success and jumps in to tag team (wait a minute that is wrestling – get that analogy outta there) with your jar.
Have you heard of the SmartBlend technology? It is the super tech that is your tag team partner (yep that analogy is a stay) to perfect blends on your Designer 725. How?
Well, it watches over your blend from set up load to completion. This is your friend with every blend. It senses and identifies potential problems that could interfere with your blends. Everything from loading errors to overheating, or air pockets.
Your SmartBlend partner is in the background ready to lend a hand and then tells you how to fix them (literally) as it tells you via text on your Blendtec 725 control panel.
Yeah, nifty and pretty sweet you got your blend ventures supported with this tag team partner.
Oh yeah ring that bell now!
Winner: Blendtec 725 - WildSide+ Jar
A tough call, the tamper's utility vs the WildSide+ innovations, but in the end WildSide+ Jar takes the day because its design provides quicker blending, the blunt blades are safe to touch during cleaning and it provides truly hands-free blending automation.

PRICE
Finally, we come down to the"Dollars and Cents" pugilistic tango, because heck yeah, PRICE MATTERS! Now both these blenders are the crème de la crème of blending, packed with features, loaded up with power and impressive warranties. You know they are not cheap. You know Quality costs more, and you know that you get what you pay for. But you still want to get the BEST VALUE. So, let the bell ring and get this round on.
Winner: Blendtec 725
Currently you can find the A3500 for about $819 CAD. But the Blendtec Designer 725 wins the lowest price round as you can find it being sold by some vendors (including good4lifemart.com) for about $749.95 CAD.
Note that prices may change since time of writing.
For current price or special deal offers on the Blendtec Designer 725 at Good4LifeMart, click here.
7 – 8 – 9 – 10…. KNOCK OUT!

The Fight Decision: A last minute knock out!!! The Blendtec Designer 725 Wins!!
A hard-fought battle that went all the way to the 12th round. But the Blendtec Designer 725 finally delivered a devastating blow.
So, there you have it. Blendtec's Innovation, triumphs over Vitamix's long history.
Those of you in the first row, please don't send emails complaining about being splashed by smoothie! Blender Battles are a contact sport. You should have anticipated it and dressed accordingly!