Blendtec Designer 650 Blender with WildSide Jar
Product Description



The Designer 650 is the swiss army knife of blenders! Its 6 pre-set functions make whipping up a wide array of delicious blends easy as pushing a button. Available in a choice of 3 stylish colours.
The newest Designer Model created by Blendtec aims to please, as it is loaded rich in features and style. Get all you need to create boundless healthy and supremely delicious smoothie bar quality smoothies and other culinary creations in 90 seconds or less.
Premium features include: illuminated touch interface, 6 preprogrammed cycles to create the perfect blend every time for your smoothies, frozen treats, whole juice, hot soups, batters and cocktails. As well as 8 speeds for when you want to take control in the making of your blending creations.
How Will It Benefit You?
1. LOOKS: Like all designer series blenders the Blendtec 650 offers a beautiful modern clean design. Its sophisticated contemporary looks will enhance your kitchen. This Designer model comes in a molded finish that is offered in a choice of three popular colours: black, red and silver. Sized perfectly to fit right under your kitchen cabinets (measuring: 7" wide x 15.5 tall and 9.25 deep) unlike some other high powered blenders
2. POWER: Powerful 3.0 peak horsepower motor is very powerful which means that you can blend tough tasks perfectly without straining the motor. This is very important when blending tasks such as crushing ice and frozen fruit, blending grain into flour, or making thick dense soup in seconds or the occasional iPhone (as demonstrated on the Blendtec YouTube's "Will It Blend" channel). Tougher blending tasks, wear down low horsepower blenders causing lesser blenders to stall, underperform and eventually break.
3. EASE OF USE: Modern artfully engineered control interface via an Illuminated capacitive touch screen. It displays intuitive easy to use and see controls, consisting of icons, slider and digital view of blend time (and time remaining on active blends). The touch screen (control panel) turns on (lights up) with a touch and shuts off automatically. The Designer 650 Model provides a wide range of useful pre-set functions as well as the ability to customize blends.
Controls
• SET AND FORGET WITH: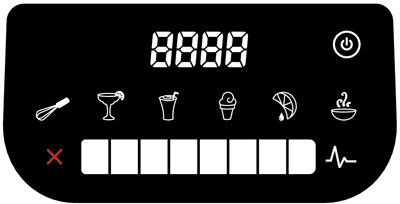 6 Preprogrammed Cycles - Enjoy hands free, set and forget (or tap and go) with a choice of 6 preprogrammed cycles. Each cycle is optimized with varying speed up and slow down phases creating perfect blends for each.

1. Batters: 30 Seconds
2. Ice Crush/Mixed Drinks: 30 Seconds
3. Smoothie and similar thick beverages: 40 second cycle
4. Ice cream and frozen treats such as sorbets and frozen yogurts: 45 seconds.
5. Whole juice: 50 Seconds
6. Hot soup: 90 Seconds
• PRECISION & CONTROL WITH: Eight Speed Touch Slider + Pulse – Go off-road and enjoy making up your own blend cycles for your culinary adventure creations. Customize your blends freestyle and add-on a touch of custom blend time to preprogrammed cycles when just a tad more is preferred. Easy to use custom controls, simply slide finger on illuminated slider to blend in a choice of 8 speeds. Or touch the Pulse Icon on the right when you want bursts of higher speed blending.
4. EASY TO CLEAN: Easy to clean, thanks to smart engineering, enjoy fast & easy cleaning both outside (smooth touch screen and base – damp cloth wipe) and inside (jars – blend with water & dish soap then rinse).
5. SAFE: Smart engineering providing safer use…
• The blunted blade, will not cut you when cleaning. Hands can safely go in and around the blunt blade
• BPA-Free Jars
• The patented Vented Gripper Lid, vents steam when making hot blends, thereby allowing pressure of steam to safely release without build up of gas pressure.
6. PEACE OF MIND: Blendtec's 8-year warranty (home use) covers both the blender and the included jar against defects or everyday wear and tear. Compare this to the stingy 1 year warranties of some other manufactures. Note you can purchase additional jars to have more containers on hand, just note that the additional jars, that do not come within your blender package, have a different blender container warranty period of 3-years.
Bottom Line
The Blendtec Designer 650 is the union of versatility and Style. All the innovation that is expected from a Blendtec coupled with all the style and elegance that is the hallmark of the Designer Line Series.
Packed with value, featuring the 6 pre-set cycles for your favourite dishes and beverages as well as manual control with 8 speed slider, for your freestyle creations.
A definite must have for those that want to enjoy premium smoothie shop and restaurant quality smoothies in the convenience of their own home at a fraction of the cost.
Available in a choice of 3 popular colours. Choose a colour that seamlessly matches the kitchen décor of your personal style.
Features
• 3.0 peak horsepower motor
• Illuminated, capacitive touch interface (lights up with a single touch & shuts off automatically)
• 6 preprogrammed cycles (easy to see lite up icons)
• 8-speed capacitive touch slider + Pulse
• Illuminated display indicates remaining blend time
• WildSide+ BPA-free jar with vented Gripper™ lid
• Easy to Clean Design (flat /smooth touch screen surface, no knobs or buttons)
• Artfully Engineered /Beautiful Design - Modern clean design will enhance your kitchen
• Blunted blending blade much safer to clean
• 8-year warranty (home use)
Specifications
• Molded finish
• Colors: Black, Red, Silver
• Dimensions: 7" wide x 15.5" tall x 9.25" deep
• Weight: 9.8 lbs
• 1560 watts, 13 amps, 120 volts
Package includes:
• Designer 650 motor base
• BPA-free jar with vented Gripper™ lid
• Blending 101 quick-start guide and recipes
Product Videos
Why Blendtec? The 5 Differentiators
02:27
What makes Blendtec different? 1-Quiet, Ultra Speed Motor 2-Plunger Free, Easy Clean Jar 3-Uniquely Blunt Safety Blade 4-Smart Touch Interface 5-Hardened Metal Drive Socket Blendtec.com
Why Blendtec? ...

What makes Blendtec different? 1-Quiet, Ultra Speed Motor 2-Pl...

Why Blendtec?

Why choose a Blendtec? We create the Worlds Most Advanced Blen...

Why Blendtec? ...

Our purpose in life is to enrich and make lives better by crea...

Why Blendtec -...

Video to highlight features and functions at industry trade sh...

Celery Juice /...

YouTube star Tom Dickson shows how to use his latest invention...
Warranty Information
8-Year Warranty (home use)
Other Details
Role:
When Versatility meets Style
Interface:
Illuminated, capacitive touch interface
Speed Settings:
8-speed capacitive touch slider
Preprogrammed cycles:
6 preprogrammed cycles + Pulse
Timed Cycles 60 Seconds— hot soup, bread dough:
No
Timed Cycles 90 Seconds— hot soup, bread dough:
No
Clean — automatic cleaning cycle:
No
Pulse — used to quickly stir, chop, or mince at a high speed:
Yes
Smoothie — Fruit smoothies, green smoothies, milkshakes:
Yes
Whole Juice — juices, green drinks:
Yes
Ice Cream — ice cream, frozen yogurt, sorbets:
Yes
Hot Soup — soups, hot chocolate, syrups, fondues:
Yes
Dips — Salsa, dressings, dips, sauces, batters:
No
Batters — sauces, dips, dressings, batters:
Yes
Mixed Drinks — mixed drinks, milkshakes, crush ice:
Yes
+10 — adds 10 seconds to your preprogrammed cycles:
No
Finish:
Molded plastic finish
Colors:
Black, Pomegranate, Stainless Steel
Motor:
3.0 peak horsepower motor
Electrical:
15 amps, 120 volts
Dimensions:
7" wide x 15.5" tall x 9.25" deep
Warranty:
8-year (home use)