Types of Juicers

A universally perfect juicer that is the best at extracting juice equally well in all performance grading criteria for every type of produce, does not currently exist. There is not one type of juicing system that can juice all things equally well or exactly the same. Simply, juicing systems are optimized for differing priorities (ex: excellent generalist but juices greens somewhat easier/ better and/ or faster, great generalist but juices fruit somewhat faster/ easier or better, good quality specialist that juices citrus fruits somewhat faster / easier and / or better and so on).

When selecting a type of juicing system, the main criteria to focus on, is what a person intends to juice most often, followed by grading criteria to determine what system generally does the best juicing (ex: yield, taste, smoothness, nutrition density), along with personal preferences such as: quiet operation, ease of use, time to operate / clean, personal budget and warranty.
Aside from Specialty Juicers, there are two main styles of electric juicing systems for home use.
Cold Pressed Slow Juicers
High Speed Centrifugal Juicers
Cold Pressed Slow Juicers: This type of juicing system, extract juice by slowly crushing the produce by means of an auger against a screen. The process is slow – generally between 43 to 160 Rotations Per Minute (RPM). The terms "Cold Pressed Juicers" and "Slow Juicers" are often interchanged and used together, as "cold pressing" will be slow and "slow juicing" will be cool. General points on this type of juicer.
Unlike faster juicers, the slow RPM reduces oxidation which is reported to yield higher nutrition (more enzymes, phytonutrients and vitamins) due to less heat and friction (oxidation)
Longer shelf life (up to 72 hours) because of less oxidation. Ideal for those that want the convenience of being able to make fresh juices in advance.
More versatile than centrifugal systems.
Higher yield (delivers more juice from less produce)
Quiet operation (an important criteria if you don't' want to wake others in the home)
More Expensive than a centrifugal to buy (but makes more juice for less cost)

Cold Pressed Slow Juicers subdivide into two method categories. One method uses two gears (a.k.a. two augers) which is referred to as Triturating. The other method, uses one auger (a.k.a. one gear) which is commonly referred to as Masticating (implemented in both vertical and horizontal system designs). These high-quality systems are strategically designed to operate using low RPMs.
More about each method on Cold Pressed Slow Juicers.
Triturating (twin gear auger): This type of juicer is a horizontal design that uses interlocking twin gears to crush produce and extract the juice.
Can be must more expensive than Masticating juicers
Horizontal Twin Gear:
Generally highest yield and quality of juice (more nutrition dense)
Will likely take longer to clean after usage
Very versatile appliance. Can do much more than juicing
Tends to be much more expensive than other juicers
One Gear / One Auger
Masticating (single auger): This type of juicer can be either a horizontal or vertical design. It uses a single gear to crush the produce and extract the juice.
Cheaper than Triturating juicers
Horizontal Single Gear:
Larger size takes more counter top space
Does NOT require as much food cutting / preparation as the vertical design.
Uses a pusher
Beyond Juicing: Some models are very versatile, such as Nutrition Centers that offer other food processing functions, such as being able to make nut milk, nut butter, sorbet and pasta).
Vertical Single Gear:
Space saving small footprint.
Auto-feeds many types of produce
Better than the horizontal at juicing fruits.
Prep cutting all produce required
High-Speed Juicers: This type of juicer extracts juice quickly. They are designed to cut / shred at high speeds with RPMs in the thousands. Ideal for those that prioritize getting their juices made fast.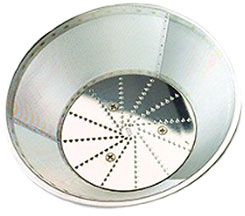 Centrifugal High-Speed Juicer: Centrifugal juicers work by using a rapidly spinning flat cutting blade located on the bottom of a basket. Produce is shredded by the blades and the high centrifugal force, is used to extract the juices from the shredded pulp.
The process is fast – generally between 3600 to 11000 RPM
Fast juicing process
Generally less expensive than slow juicers
Not very effective with leafy vegetables
Very noisy due to high RPM speeds.
Heat generated by the high-speed blades can cause vitamin and enzyme loss
Commonly have shorter warranties

Centrifugal Juicers subdivide into sub categories: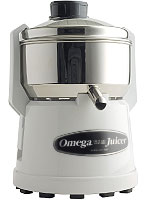 No Pulp Ejectors: Pulp is not ejected into a basket. Instead it stays in the machine until the juicer is full. At which point it will need to be emptied.
Not suitable for large batch juicing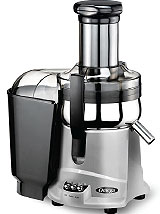 Pulp Ejectors:
Pulp is ejected into a basket out the back of the machine instead of sitting in the juicer basket
Shortest prep time (especially with MegaMouth model)
Easier clean-up
Fastest juicing process. (especially with MegaMouth model)
Specialty Juicers: These juicers are designed and optimized to juice specific types of produce and do it very well. Operation output speeds, noise, and RPMs will vary. Specialty juicers can cost less than those designed to be most versatile. Ideal for those that mostly want to make juice with specific produce.
Reamers: Juice extraction by pressing or grinding halved citrus fruits such as lemons, limes, oranges and grapefruit against a ridged cone shape.
Reamer cone shape is in different sizes to accommodate different sized citrus fruits. Juice extraction is from fruit tissue and pith but not the skins.
A citrus reamer is either stationary for manual grinding/pressing to extract juice or else electric whereby the ridged cone centre automatically spins when the citrus fruit are pressed on it.
Electric Citrus Reamer Juicer: Unlike other general juicers capable of juicing a variety of produce, this juicer style is designed specifically for juicing citrus fruits only.
Optimized to juice citrus fruit (ex: lemons, limes, oranges, and grapefruits)
Fast and easy to start juicing. No peeling of skins. Simply cut citrus fruit in half and place on presser
Does not extract juice from citrus skins. For those that want to juice some skins, consider a cold pressed or high speed juicer.
Somewhat noisy


That wraps up your step 1 "Learning About Types of Juicers".
Now proceed to step 2, to "Identify Which Juicing System Is Preferable for You".


---
JUICER BUYING GUIDE PAGES
Save
Save
Save
Save
Save
Save
Save
Save
Save
Save
Save
Save